OUR MONTANA FLY FISHING GUIDES
Our Montana Fly Fishing Guides' staff has been hand picked over the last decade to bring you one of the finest groups of guides you'll ever run across. These are professional Montana fly fishing guides who have years of experience on every piece of water we fish, no college kids with a summer job. Our core Montana guide staff have a passion for fly fishing that has taken them across the country and around the world to pursue fish on the fly.
We hear every year from clients about our staff's knowledge, positive attitudes and fly fishing guide skills. Most importantly they will teach you how to be a better angler. We're sure you'll agree that we've got one of the best teams anywhere. Take a look…
ERIC ADAMS Owner/Guide
Eric Adams grew up in the Mid-West chasing trout throughout Michigan and Wisconsin. His obsession for all things fishing began a journey that has led him to numerous states and countries pursuing dozens of species of fish on the fly. This passion led him to an undergraduate degree in Environmental Biology and a Master's degree in Ecology. This background allows him to convey a unique perspective while guiding ensuring a day on the water is an educational experience. He can use this education to translate the fishing, the surrounding ecological landscape, and most important techniques that put a bend in your rod. This lifelong journey eventually led Eric to the of trout capital of fly fishing in Livingston, Montana.
"In all my travels I've never found anywhere with such fishing diversity – from big freestone rivers to technical spring creeks and incredible tailwaters. Whether we're walk wading, in drift boats or fishing fast flowing rivers in rafts, our area of Montana is the perfect base of operation to chase wild trout."
Eric Adams currently operates Montana Fly Fishing Guides – one of the area's most successful outfitting operations where he is the head guide and cat herder. In his not-so-spare time he is the Director of Fishing Operations at Yellowstone Valley Lodge, a former director and supporter of the Fishing Outfitter Association of Montana (FOAM), a business supporter of Montanan's for Healthy Rivers, an ambassador for Adipose Boatworks, a business member of Upper Missouri Watershed Alliance (UMOWA), and a business supporter of Yellowstone Gateway Business Coalition. He is also affiliated and endorses the following fly fishing products –  Skwala Fishing, Echo Fly Rods, Costa Sunglasses, and DECKED truck storage systems. In his off time he enjoys bowhunting, traveling to fish with his wife, Nikki and German shepherd Ryder.
NICOLETTE ALLEN
Client & Guide Services
Born and raised in NW Wyoming, Nicolette always had an affinity to being outdoors. Her passion for fly fishing has further developed since moving to Montana over 20 years ago. Her personal fly angling accomplishments include everything from trophy New Zealand Brown Trout, Massive Wisconsin Muskie, Belize Bonefish to Florida Keys Tarpon. With regard to MFG, Nicolette is in charge behind the scenes writing guide checks, bookkeeping, returning phone calls, guide bookings and general gettin-stuff-done happens with her in charge.
She is also Eric's best fishing, travel partner and wife. When she's not in the office running MFG, Emigrant Cabins or Tiny Town Campground you can find her fishing, paddle boarding, practicing yoga or hiking with our best German Shepherd, Ryder.
WILL LASSITER
Core Staff Guide
Will Lassiter was born and raised in North Carolina, but now resides in Livingston as one of our Montana Fly Fishing Guides staff members. He caught the fly fishing bug at an early age, chasing bass and panfish everywhere he could wet a line. After completing his degree from the University of North Carolina, he followed his passion for fly fishing west landing in Livingston for a summer position at Dan Bailey's. The "summer job" started in 1995 and while he no longer manages the fly shop he continues his work on the river.
 Will is equally at home on the large rivers of the Yellowstone, Madison and Missouri, and the more intimate creeks in the area. He enjoys going the extra mile to find that less fished stretch of water to provide you with a great angling experience. During the off season you can find Will out on the prairies of Montana dutifully in pursuit of his dogs, and hopefully a covey of upland birds.
JESSE DANCER
Core Guide Staff
Jesse Dancer's life long passion for fly fishing started on the banks of the McKenzie river in Oregon where he spent many hours chasing trout and steelhead. While born and raised in Oregon, this passion led him to start guiding anglers in Alaska. Jesse dedicated 6 years to developing his guide skills in Alaska where his hard work and leadership didn't go unnoticed as he left the lodge as head guide. Alaska was just a stepping stone for Jesse as Montana had always been on his personal and professional radar. After spending several partial years in Montana Jesse made his full time move to Livingston. The past several years have proven Jesse to be an exceptional guide and we are proud to welcome him as our newest core guide.
When Jesse isn't guiding or fishing the many great rivers in Montana you (can try to) find him on a horse looking for elk, or on the coastal waters of Oregon swinging flies in search of steelhead.
ZACH PLESHAR
Core Guide Staff
Zach Pleshar was raised right here in Livingston, Montana. He spent his childhood running around the mountains and rivers of Paradise Valley. He's got a play hard / work hard ethic, which is obvious to all the anglers who request him. Zach Pleshar thrives in all aspects of guiding from teaching the finer points of fishing techniques to the simplicity of just enjoying a great day on the water.
He's been guiding for over a decade on his home waters as well as spending four seasons in Western Alaska. It's no wonder he's one of our most requested guides.
After the fishing & hunting seasons are over you'll still find him either fly fishing, guiding elk hunting, or telemark skiing the backcountry – guess not much has changed since he was a kid…
TONY VALERIANO
Core Guide Staff
Tony "V" Valeriano has been fishing since he was a small boy and has enjoyed putting' the hurt on trout in Montana since the mid-80's. He has been guiding anglers since 1990 and is certainly one of the most knowledgeable guides in the area. Tony Valeriano has an easy going, but knowledgeable style of guiding which is complimented by his infectious humor. Anglers in his boat will always come away from a day of fishing with better skills and great memories.
When he's not spending time with his wonderful family he can be found fishing, bow hunting, chasing upland birds, or skiing the fabulous powder of the Rocky Mountains.
JEFF WELKE
Core Guide Staff
Originally from northern Michigan, Jeff Welke started fly-fishing at ten, tying flies at twelve, then guiding and teaching fly-casting instruction at 17. He managed a fly shop and guided in the summers while pursuing his college degree. After discovering the local area during a trip to Yellowstone, he made the move out west to pursue the sporting life he dreamed of since childhood.
After moving to Livingston, he spent several years as the former general manager of Dan Bailey's Fly Shop. Jeff is one of our full time guides as well as an excellent real estate agent (if you're looking for some river side property). He spends the summer months guiding fishermen on his favorite streams in the area while sharing his passion for angling and instruction. Jeff resides on a ranch south of Livingston with his three bird dogs and enjoys spending the off season gardening, foraging for wild mushrooms, wandering around in the mountains or hunting for big game animals and birds all across the state.
MATT NISPEL
Core Staff Guide
Originally from Colorado, Matt Nispel introduced to fly fishing when a friend pressed him to tag along on a late October trek to a high mountain lake impersonating a hockey rink. Undeterred by that failed first outing, Matt began teaching himself to fly fish and was soon spending every spare minute away from work in the insurance industry tussling with the savvy trout of Colorado's South Platte, Arkansas, Frying Pan and Blue rivers.
After a decade of honing his skills and having had his fill of life in a cubical, the allure of working outdoors as a guide couldn't be ignored any longer and he moved to Livingston in 2011. Like a many of the Montana Fly Fishing Guides before him, he guided and worked as general manager for Dan Bailey's Fly Shop. This allowed him to gain extensive knowledge of the best fishing throughout Montana.
Fly fishing crossed over from sport to lifestyle a long time ago for Matt, and he's eager to share it with those who he fishes. Known for his persistent smile, work ethic and easy going approach "Matty" is a guide who can add insight to any seasoned anglers day, get beginners up to speed quickly, and show either a fun time on the water sharing laughs along the way.
CARLISLE JONES
Core Staff Guide
Carlisle was born and raised in Alabama but made the move out to Montana several years ago to pursue a life filled with trout fishing and managed to get a degree from MSU along the way. He was first introduced to trout fishing at the age of nine, and grew up fishing for a variety of species throughout the South. However, upon visiting Montana with his father as a teenager he fell in love with the rivers and mountains of southwestern Montana. It just proves you never know what will come from the family vacation.
No matter what your skill level, a day on the  water with Carlisle is sure to be fishy, fun and educational. When he isn't chasing fish on the fly you'll likely find Carlisle hunting, playing music with his friends, or cheering on the Crimson Tide.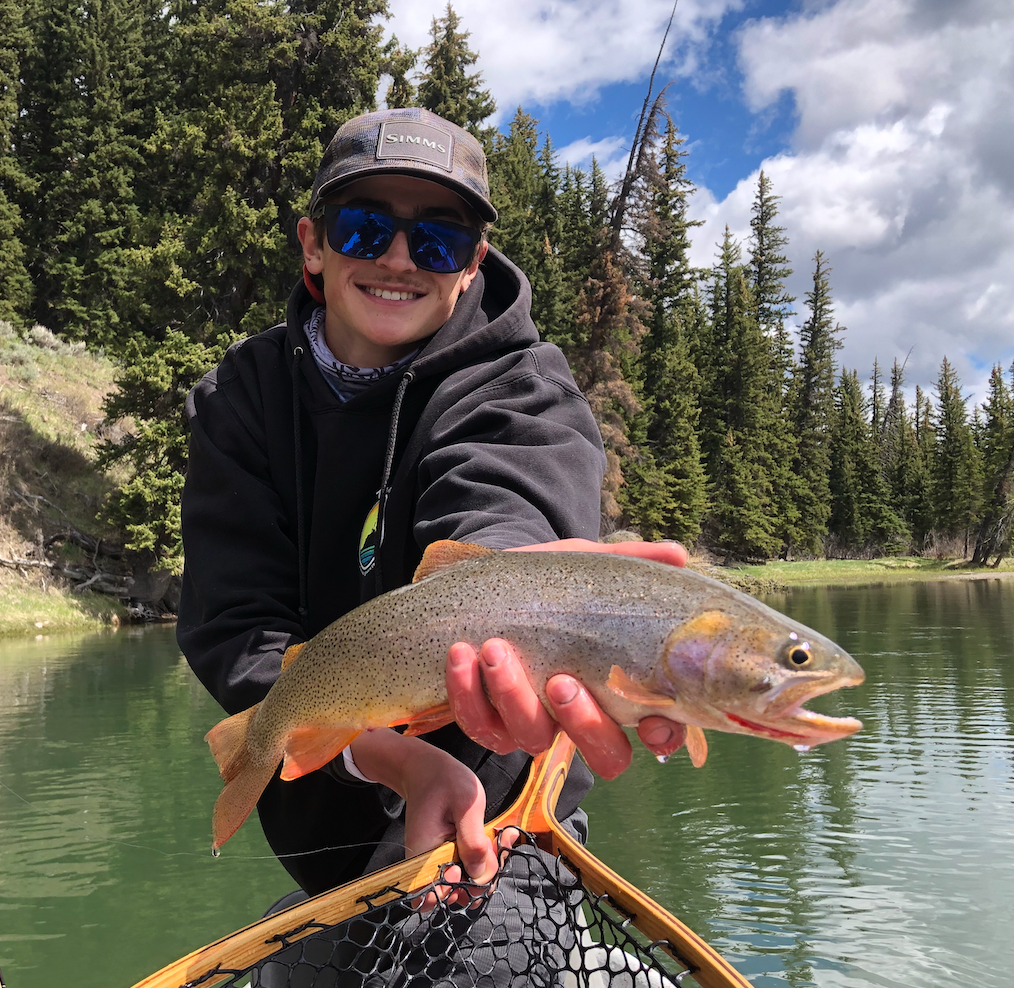 CONOR BYORTH
Core Staff Guide
Conor Byorth is a fifth generation Montanan who was born and raised in Bozeman. He was introduced to fly fishing by his trout biologist father, almost before he began to walk. He spent all his youthful free time fishing the Yellowstone and surrounding rivers throughout his early years, which has permanently given him the bug. The only "cure" has been guiding, which he started at eighteen in Wyoming and then rivers across southwest Montana. His favorite river has always been near home on the Yellowstone.
Conor is currently pursuing a degree in Natural Resource Sciences at the University of Montana Western in Dillon, Montana, but makes an annual trek to return home and fish the Stone! When he's not guiding, Conor is hunting or skiing at Maverick Mountain where he works as a lift operator during the school year.
MARSHALL KIRK
Core Staff Guide
Marshall Kirk grew up in Southern Maine. Much of his youth was spent chasing trout and striped bass around New England with his father. From a young age it was apparent to him and those around him that a move westward was inevitable. Marshall enrolled at Montana State University to pursue a degree in environmental engineering and nearly all of his free time since has been spent fly fishing throughout Southwest Montana.
He started work in a fly shop in Livingston and immediately fell in love with the Yellowstone River and the trout that inhabit its pristine waters. Marshall has always been a passionate teacher, starting teaching skiing at his local ski hill in high school and carrying much of this on into his guiding, spending a day on the water with him you will find this very apparent. When he is not guiding he'll likely be found fishing, studying or teaching skiing at Big Sky Resort.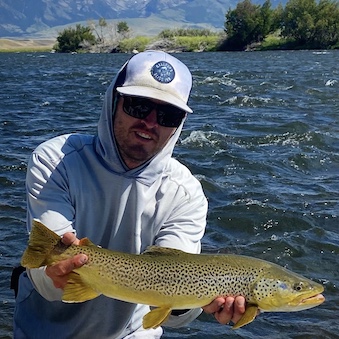 PARKER SMITH
Core Staff Guide
Parker grew up in upstate South Carolina chasing anything that would put a bend in a fishing rod, and was bitten by the fly fishing bug at the tender age of 8. Whether it was bass tournaments, inshore, or offshore saltwater fishing – nothing really scratched the itch quite like fly fishing for trout.
Scratching that itch led him to Colorado where he guided for a number of years, and eventually found the Last Best Place,  Montana.  Parker has over 10 years of guiding under his belt and is a patient, knowledgable, and hardworking fishing guide.  Whether you are a new to fly fishing or seasoned veteran, you'll be certain to leave a more knowledgable angler after a day or two with him. Parker is more than just instructional, you'll find he keeps the day enjoyable and laid back day.
When he's not guiding you can find Parker spending time with his wife and daughter, hunting, fishing, and skiing. If he's MIA, he's probably in the Keys chasing tarpon!
LANCE GRAY
Staff Guide
Lance Gray was raised in the Paradise Valley just South of Livingston having grown up in an outdoor family. Lance cut his teeth on the Yellowstone River and surrounding streams at an early age. While in high school and through college Lance guided raft trips on the Yellowstone, Gallatin, and Madison whitewater sections, always taking time to fish. Holding a degree in Communications Lance concentrates his focus on casting technique, fishing skills, and local area history. Lance holds a tremendous amount of knowledge and patience so whether you're a beginner or expert, you can be rest assured after a day on the water you will walk away a better angler.
When not on the water, Lance spends his time teaching his kids how to fish, come fall he's busy chasing Elk and Upland birds.
RUSSELL ELWELL
Core Staff Guide
Russell has spent his life pursuing outdoor experiences ranging from fishing and floating around the world to horse packing and hunting through the mountains of Montana and Wyoming. Russell Elwell was chosen as the 2009 Wyoming Guide of the year. He has been guiding folks in the wilderness of Montana, Wyoming, and Alaska for 13 years and has numerous stories and experiences to share with his guests. He is dedicated to providing memorable experiences in an easy going fun atmosphere and concentrates on teaching fishing techniques, casting skills, knowledge of the river and local history. His goal is for every angler to come away with greater fishing skills, appreciation of the rivers and new memories. Russell spends his winters sliding the slopes and seeking out comfortable climates to relax. He lives in Livingston, Montana with his wife, two young boys and his dog.
CAPTAIN PERRY COLEMAN
Staff Guide
Started fly fishing the numerous trout streams of Colorado, since then he's spent the majority of his life guiding fly fishermen in locations from Argentina to the Florida Keys and here in Montana. His good humor, patience and unsurpassed fishing knowledge make him a great instructor for experts or beginners.
Perry has been with us for nearly 2 decades. His knowledge of the local waters is extensive – everything from entomology to spey casting. We guarantee you won't find a more well rounded Montana fly fishing guide.
Captain Perry Coleman winters at Islamorada in the Florida Keys where he guides saltwater flats fishing. If you're looking for a great Tarpon, Bonefish, Redfish or Snook fishing experience he's definitely the one to call. Contact us and we'll be happy to arrange something for you.
PARADISE ADVENTURE CO.
Yellowstone Rafting & Whitewater
Living and working in Paradise Valley is truly a dream come true and makes every day an adventure! When you visit here, you will understand what we mean. Every summer, our entire Paradise Adventures staff works and trains hard so we may show you what Montana and Yellowstone have to offer.
The owners, Patrik & Sarah Ondrus, are a husband and wife team sharing a love of the river, Yellowstone and Montana, and a passion for customer service. Our goal is for every guest to experience the same thrill that we feel every day living here in the mountains. We want to make your adventure special.
Click to learn more about a Yellowstone River Rafting Trip with Paradise Adventure Company.
CHRIS HONDORF
Yellowstone National Park Tour & Hiking Guide
Chris Hondorf is the owner of Yellowstone Guidelines. Yellowstone Guidelines specializes in guided tours and adventures in Yellowstone National Park. If you're looking for a private wildlife and scenic tours, backpacking, day hiking, Yellowstone wolf tours, or a  multi-day adventure the we highly recommend Chris and his staff. Originally from New York, Chris migrated to Bozeman, MT shortly after graduating college. Playing and living in southwest Montana for the past 13 years, Chris loves showing visitors the wonders of Yellowstone. He now lives in Livingston, MT with his wife Annie and daughter Nola.
To book a Yellowstone Tour with Chris visit www.yellowstoneguidelines.com.
Meg & Ryan Krusemark Outdoor Adventure Planners
Take advantage of the outdoor adventure concierge service at Deep Creek Outdoor – the only outdoor retail store and equipment rental shop in Paradise Valley.  Owned and run by Meg and Ryan Krusemark since 2021, their love of the outdoors makes them well suited to understand your outdoor vacation vision as you explore Paradise Valley and the surrounding area. Let them coordinate and plan the logistics of your outdoor activities with their local adventure guide partners.
Forgot your coat or swimsuit?  Love to shop local?   The Deep Creek Outdoor shop at Chico Hot Springs Resort carries a boutique assortment of outdoor gear and apparel.  The shop also rents equipment that includes mountain bikes, electric bikes, optics, fly rods and paddle boards.
To contact Deep Creek Outdoor, visit www.DeepCreekOutdoor.com.