Time to dust off the fly boxes and check your tippet – spring is here and we are ready to fish! Well, at least as much as the weather lets us at the moment. If you're planning a fly fishing trip to Montana this season let us give you a little insight based on our nearly 20 years experience. As usual we'll support this with a look at current snow pack levels, combine it with long term temperature and precipitation forecasts. REMEMBER this is our best educated guess…
Snow Pack Levels
The latest snow pack levels are HUGE! If you're unfamiliar with snow pack and how it relates to fishing here's the simplified version. Most rivers in Montana rely on the amount of snow and more importantly the amount of water locked in the snow, or snow water equivalent (SWE). If there is too much SWE and the rivers may flood, too little and drought conditions set in. Looking at the SWE image below shows the Upper Yellowstone River drainage leading the charge at 158% of normal for this time of year. All other drainages in Montana are above normal levels. Anyone remember 2011, where we had record setting river levels?
We have personally talked to a snow plow crew boss in YNP that said, "the snow by Cooke City is 13 feet tall and it's the biggest I've ever seen." He's been there 20 years…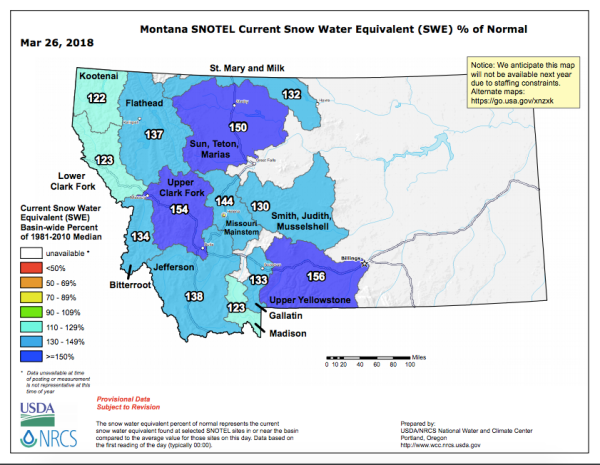 3 Month Temperature Forecast
Now on to the 3 month forecast, the National Oceanographic and Atmospheric Administration (NOAA) has predicted near normal temperatures for SW Montana in April, May & June. Interesting to note is the 40%-50% chance of below average temperatures for the majority of Montana through these next three months. Combined with big snow pack this forecast looks like we could see some big water come run-off season. Also, with the cooler weather forecast, run-off might not start until a little later than normal.
3 Month Precipitation Forecast
NOAA has also forecast a 33-50% chance of average to above average precipitation for most of Montana. Without any drought in Montana this forecast looks to keep us that way. Again this data supports a good 2018 Montana fishing outlook, especially those looking to take advantage of good water temperatures throughout the Spring season.
What Does it all Mean?
How do you put all this together and make a prediction for the 2018 Montana fishing season? First off, the current SWE combined with average 3 month temperature & precipitation forecasts looks like we are going to have a lot of water headed our way, especially during run-off season and early summer. In fact the NOAA Hydrologic forecast is for a 10%-25% chance of some minor flooding on the Yellowstone River.
Our take on this, plus our personal experience leads us to believe that the spring fishing season is looking very good. Anglers wishing to avoid the peak season and experience fewer crowds should take advantage of this timeframe and good forecast. Excellent spring fishing can be found on the Yellowstone River in April, the Madison River in April, May & June, and the Missouri River in April, May & June.
How will this influence our annual spring run-off? Well that's a really tricky question. At this point in the season we think it's too early to guesstimate the start or length of run-off. Montana weather is tough enough to forecast from day to day, let alone 2 or 3 months out. However, at this point we'd say that if your coming to SW Montana between May and June you should plan on private spring creeks, lakes or tailwaters like the Missouri. If you've gotten used to fishing the Yellowstone River in June – this isn't the year to plan on that again. For example the Yellowstone River typically starts run-off near the first week of May. The current data seems to support a bigger run-off and a more normal run-off season say early to mid July for a good starting point.
To summarize the current data strongly supports an excellent 2018 Montana fishing outlook. Full rivers fish well and it certainly looks like we'll have that this season. We'll revisit this in a couple months to update the main summer season. In the meantime think fishy thoughts, hit the tying bench and feel free to contact us or comment below with any questions or thoughts on the 2018 Montana fishing outlook.